No time to get that mole looked at? Try Firstcheck.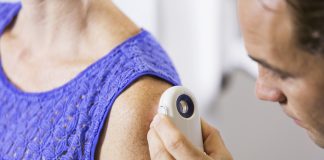 It seems every year our lives get busier and busier, demands rise, and the complexities of life continue to add further burden. Unfortunately, this often means we neglect ourselves. This is seen daily with regards to one's health. Without going into all the flow-on effects to one's health from our 'push through' attitude (as this would create a doorway to almost all aspects of healthcare), let's talk about the common thought that nags away but we often leave for years – that concerning mole.
As a Skin Cancer Doctor here at HealthZone Medical, I base the required work in this field within my General Practice. We don't heavily advertise this, but want to make sure our patients and local area are aware that I am available to all patients, not just enrolled, for these services.
My first statement is, nothing will be as good as having a full-body mole check, in person, with a skin cancer professional trained in dermoscopy like myself. Here at HealthZone this costs $150, and will last about 30 minutes. However if you can't get to us, just have one or two moles you want to check, and have a smartphone, there are other options:
FIRSTCHECK: Firstcheck is an NZ app that allows you to take photos of your moles (ideally with the 'Firstcheck dysplens' lens/tool available to purchase through the app for improved photos. You can then send these photos plus any relevant history (which is prompted for at the time with a questionnaire), and then select the specialist who you wish to review this. Wait time? Minimal wait, within 24-48 hours at most you'll have a report back from the specialist.
MOLESCOPE: This is a US app that also allows you to take photos of your moles (ideally with the 'Molescope' lens/tool available to purchase. The advantage of this platform is that it can integrate with and supply photos seamlessly to your own doctors professional Dermengine system. We use Dermengine at HealthZone for selected patients. Dermengine also brings the power of AI in screening skin lesions, especially moles.
I've been able to help many patients identify concerning lesions but often relieve concerns about moles that are fine, erasing that nagging burden they've had for weeks, months, or potentially years. But for the time poor, the above apps are your next best option.
Dr Andre George